JOB OPPORTUNITY: ADMINISTRATIVE ASSISTANT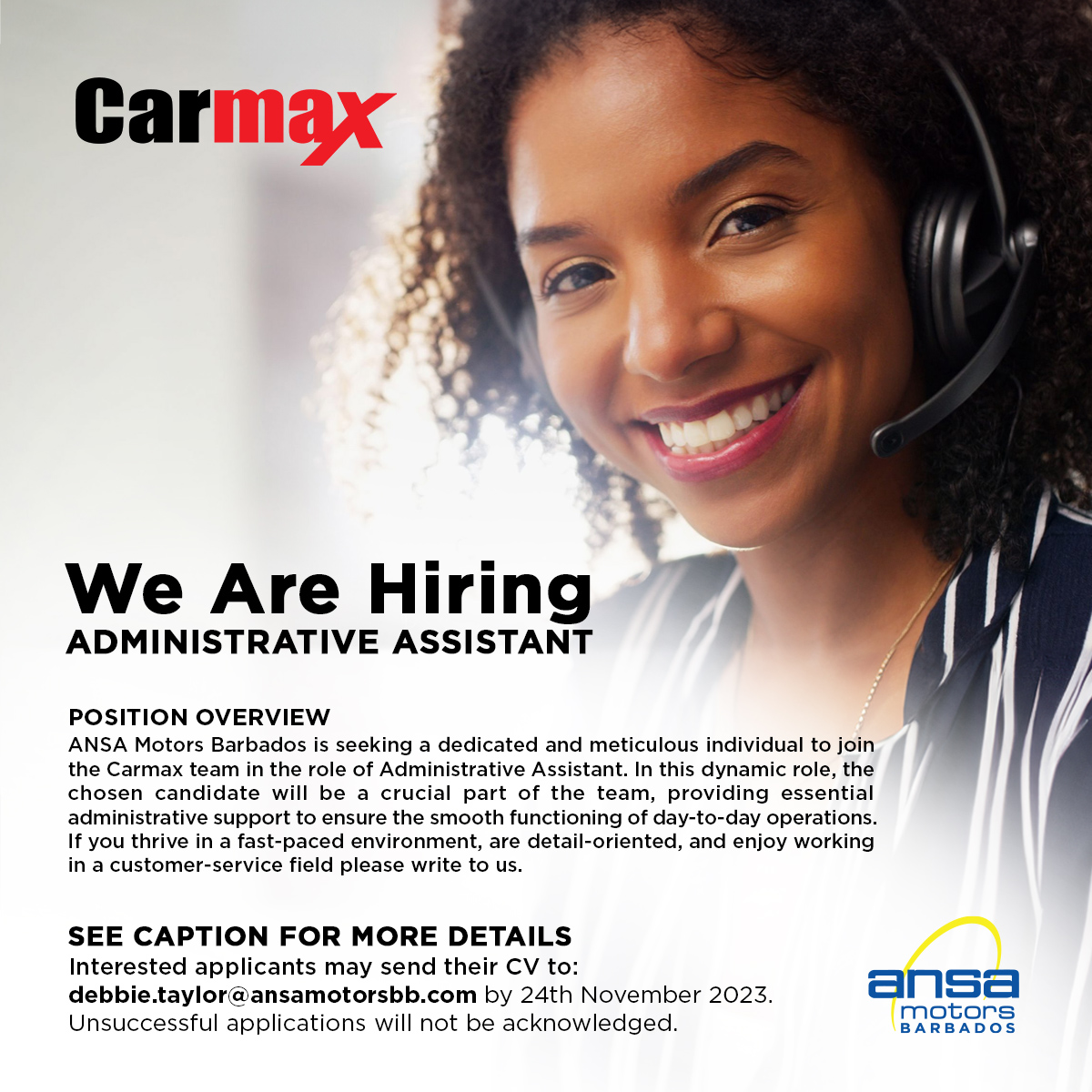 ANSA Motors Barbados is seeking a dedicated and meticulous individual to join the Carmax team in the role of Administrative Assistant. In this dynamic role, the chosen candidate will be a crucial part of the team, providing essential administrative support to ensure the smooth functioning of day-to-day operations. If you thrive in a fast-paced environment, are detail-oriented, and enjoy working in a customer-service field please write to us.
Responsibilities:
Document Preparation: Prepare and edit documents, presentations, and reports, ensuring accuracy and adherence to company standards.
Communications management:  Incoming calls, emails, and correspondence, responding promptly and professionally or directing them to the appropriate personnel.
Office Organization: Maintain an efficient office space, including office supplies, equipment, mail business packages and facilities.
Record Keeping: Maintain accurate and up-to-date records, databases, and filing systems to ensure easy retrieval of information.
Administrative Projects: Support various administrative projects, by assisting various teams and initiatives as required.
Collaboration: Work with other management, sales, and administrative staff to maintain processes and enhance overall office efficiency.
Process invoices and purchase orders.
Requirements:
Proven experience as an Administrative Assistant or in a similar role.
Preferred: Two-year certificate or degree and two years' experience, or four years related experience.
Proficiency in Microsoft Office Suite.
Excellent organizational and time-management skills with the ability to prioritize tasks.
Customer-oriented service personality, with a positive work attitude.
Strong written and verbal communication skills.
Detail-oriented with a commitment to delivering high-quality work.
Enthusiastic, adaptable, and able to thrive in a team-oriented environment.
Interested persons please your resume to [email protected] by Friday 24th November 2024. Unsuccessful applications will not be acknowledged.